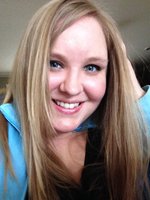 Emily A. Slivinski
Emily A. Slivinski, 35, passed away January 27, 2017, at her home, of natural causes. Emily was born in Lake Forest and was raised in Libertyville, graduating from St. Joseph Grade School and Libertyville High School. She later went on to receive her Bachelor of Arts degree from Roosevelt University.
She is survived by her beloved mother, Donna; her loving sisters, Amy (Greg) Stilling and Jen (Jim) Kallieris, and was the proud aunt of Molly, Jake, Bobby, Luke and Dottie. Emily was preceded in death by her beloved father, Robert, in 1998.
Funeral Mass will be at 10:00 a.m. Wednesday, February 1 at St. Joseph Catholic Church, 121 East Maple, Libertyville. Interment will be in Ascension Cemetery. Visitation will be from 4:00-8:00 p.m. Tuesday, January 31, at McMurrough Funeral Chapel, 101 Park Place, Libertyville.
In lieu of flowers, memorial donations made to Orphans of the Storm, 2200 Riverwoods Rd, Deerfield, IL 60015 would be greatly appreciated. Funeral information (847)362-2626. Sign the guestbook at libertyvillefuneralhome.com