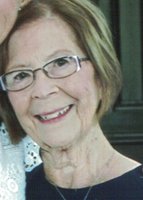 Mary Davin Dunn
Mary Davin Dunn passed away on October 3, 2017, in her home. She was born on March 22, 1936 to Charles and Mae (nee Robak) Davin in Louisville, KY. Mary attended elementary school at St. Mary's Hyde Park in Cincinnati, Ohio. She obtained degrees from the University of Dayton, Cardinal Stritch University, and the University of Illinois, Chicago.
As a teacher of elementary education, Mary taught in Ohio, Virginia, Wisconsin, and Missouri. She retired as a faculty member of the English Department from the College of Lake County. She loved telling stories about her students. A prolific writer with a passion for literature, Mary authored over 30 non-fiction children's books. Recently a teacher referred to her as the "Queen of Non-Fiction". Additionally, several of her students successfully became published writers. She was a frequent speaker at state, national, and international conferences on writing and literacy. Mary was active in making blankets for hospitalized children through Project Linus.
Mary is survived by her husband Michael of 47 years. Two children Mary Beth Mortenson (Chris) of Houston and Sean (Eri) of Chicago and one granddaughter Léonie. A brother William Davin (Rose) of Cincinnati and many nieces and nephews.
The funeral Mass will be held on Monday, October 9, 2017 at 10 AM at St. Joseph Catholic Church, 121 East Maple Ave, Libertyville.
In lieu of flowers, donations can be made to Project Linus North and Central Chicagoland Chapters: 637 Charlemagne Drive, Northbrook, Illinois 60062 or the St, Joseph Church Food Pantry, 121 E. Maple Ave., Libertyville, Illinois 60048. Funeral arrangements by McMurrough Funeral Chapel (847) 362-2626 www.libertyvillefuneralhome.com