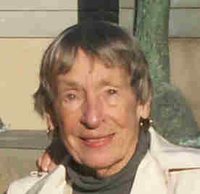 Nancy Hahm Crowell
Nancy Crowell, born November 24, 1931 was a Librarian, and like all librarians she knew where anything could be located. Fiction is on the main floor. You left your coffee on the mantle. Your shoes are where you left them. Murder Mysteries - She could locate every title.
She was first located in Evanston Illinois, where she attended Evanston Township High School. Later she studied at Knox College.
She located Herb Hahm in a model A Ford, the two married in November 1952 and relocated to Lake Bluff, then relocated again when the draft took Herb to El Paso, Texas to launch rockets for the US Army. While she was in Texas, Nancy gave birth to her first daughter, Rebecca, on February 16, 1956.
After his army service Herb, Nancy, Becky and their Great Dane, Fawn, returned to Lake Bluff, adding William July 4, 1957 and Gretchen April 3, 1959 to their home on Prospect Ave. Two blocks from the beach, on summer mornings Nancy could wake up, put on her swimsuit and be in at the beach with her children in minutes.
Life suddenly changed in 1966 when Herb was killed in an automobile accident and Nancy had to raise her three children by herself. Attending a high school reunion in 1969 she was re-acquainted with an old '49er classmate, Curt Crowell. She took him out the night of the moon landing, and never returned him. She married Curt April 24, 1970 at her parents Ridge Ave. house in Evanston.
The family expanded again, as her fourth child Webster was born April 24, 1972. The family moved four blocks to Maple Avenue, into a Webster Tomlinson house large enough to contain four children and a small menagerie of pets, including a family crow, Joe. And the architect provided a name for her fourth child.
Nancy and Curt eventually retired to Green Oaks and Nancy enjoyed travel, grandchildren, and a ferocious habit of collecting, although she rarely acquired books; for those she insisted, you go to a library.
Nancy died Monday November 6, 2017 at Lake Forest Hospital after a long battle with COPD. She was 85.
Nancy is survived by her husband Walter Curtis, her sons Web of Seattle, WA and Bill (Lori) of Bloomington, IL; grandsons Jesse (Claire) and Trevor; her daughters Becky Blanchard (Steve) of Brier, WA; granddaughter Monica (James) & grandson David; Gretchen Taylor (Ted) of Edmonds, WA; grandson Zachary (Maryam); great-grandson Anderson and granddaughter Sara.
A Memorial Gathering is planned for Saturday November 18, 2017 from 3:00 until 5:00PM at McMurrough Funeral Chapel, 101 Park Place, Libertyville. In lieu of flowers, donations may be made to the COPD foundation www.copdfoundation.org. Funeral information (847) 362-2626. Please sign the guestbook at libertyvillefuneralhome.com