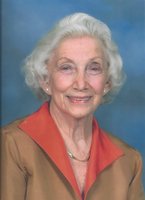 Ethel Virginia Krueger
Ethel Virginia Krueger of Austin, Texas, formerly of Libertyville, Illinois, died December 30, 2017 at the age of 95 years. Ethel was born April 11, 1922, in Wayland, Kentucky, the eighth of 12 children of Joseph and Margaret (Turner) Gibson. Ethel spent her childhood in Kentucky, where she graduated from Alice Lloyd College in Pippa Passes, Kentucky in 1941. She moved to Chicago while in her twenties, where she met Daniel Krueger at a dance at the Aragon Ballroom. They were married June 12, 1948 and moved into the house they built in West Shore Park in 1952, where they raised their two sons. Ethel went back to school and earned a bachelor of arts in English from Lake Forest College in 1959. After 13 years as a first grade teacher, Ethel earned a master's degree in education followed by a master's degree in special education. As a special education teacher and, later, program supervisor, Ethel remained in this field another 13 years until her retirement in 1984. After retiring, Ethel and Dan sold their home and traveled all over North America for the next 10 years, at which time they settled in Florida. They continued to travel, visiting Europe, Russia, China, Australia, New Zealand, and Costa Rica. In 2002, Ethel and Dan returned to Illinois where Ethel lived until July 2016 when she moved to Austin, Texas to be with her son Don and his wife Lou.
Ethel was an avid reader, loved to learn and travel, and most of all loved people. Very family oriented, she did a wonderful job of keeping family members connected. She opened her door and heart to many, both friends of her sons and family members, and was considered a "second mother" to many.
Ethel is preceded in death by her parents, Joseph and Margaret (Turner) Gibson, her husband Daniel Krueger, her sisters Carrie Banks, Nell Hagewood, Mattie Gibson, Verna Taylor, Minnie Gibson, Audrey Marshall, and June Webb, and her brothers Roy, Ray, and Joseph Gibson.
She is survived by her brother James Gibson of New Haven, Indiana; her sons, Don (Lou), Austin TX; Paul (Diane), Libertyville, IL; eight grandchildren; four great-grandchildren; nieces; nephews; cousins and extended family.
Friends are cordially invited to a visitation with family from 10:00a.m. until 11:30a.m. on Saturday, February 3, 2018, followed by a memorial service at the McMurrough Funeral Chapel, 101 Park Place, Libertyville, IL, (847) 362-2626.
The Krueger family wishes to give a special thanks to Hospice Austin for their care and support. In lieu of flowers, memorials may be sent to Hospice Austin, 4107 Spicewood Springs Rd. Austin, TX 78759 (www.hospiceaustin.org) or a charity of your choice.