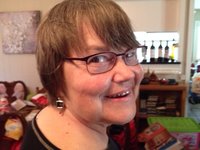 Susan Marie Demaree
Susan Marie Demaree of Libertyville, IL, age 72, passed away on February 24, 2018. She was born on November 30, 1945, the eldest of late Frank Edward and Meta Emma (Schalinske) Demaree's four children.
Susan's parents raised their children with rich experiences on the East coast and in the Midwest that cultivated life-long learners and instilled love of gardening, travel, reading, and music. Susan graduated in New York from Cooperstown Central High School in 1963, a member of both the choir and Debate Team, as well as an active flautist. She attended Capital University, in Columbus, OH, where her Uncle Ted Schalinske was a Professor, for her undergraduate work.
Always a defender of the principles of life, liberty, and the pursuit of happiness, Susan attained her Master Of Social Work from Dominican University in River Forest, IL, and dedicated herself to her field. She spent her career as a social worker employed at the Department of Children and Family Services on the West Side of Chicago.
Susan and her husband, Wes Bucey, were married in 2002. Intellectual equals, together they enjoyed passionately debating, traveling, and spending time with family and friends.
Susan devoted much of her time to participating in the North Shore Choral Society. She was a cherished member and mainstay of the organization, not only bringing her lovely voice to performances, but also serving on their board in varied positions. Susan was "instrumental in guiding and carrying out a vision of a more diverse, inclusive, and engaged choir" according to fellow member Linda Faller.
Passionate about others, Susan was a loving sister, wife, aunt, stepmother, cousin, and friend who was always there when needed with her caring words or infectious laughter.
Susan is survived by her husband, Wes Bucey; siblings Frank (Ellie Cook) Demaree, Anne Demaree-Cullen and Mary Jane Demaree; stepdaughters Lisa (Tom) VanDyne and Wendy (Robert Boswell) Bucey; and grandchildren Amanda, Kyle, Adam, and Alex. Also left to honor her memory are cherished nieces and nephews Michael (Tabitha Knoll) Weber, and son Steven; Peter (Lisa Hitchcock-Weber) Weber and daughters Jocelyn and Emily; and Sara (Kei Sato) Ballard-Sato, as well as Stephanie Hawley-Vega and her children Jesse and Dominique; Eddie Vega and his daughters Angelina, Aaliyah, and Amaya; and Amanda Vega and her son Carlos, in addition to cousins and many friends.
Susan was preceded in death by her parents, beloved brother-in-law Jim Cullen, and very dear longtime friend Peg Hawley.
Granddogs Hannah and Teddy miss her very much.
The family wishes to thank all of those who cared for her during her last days. Donations may be made in Susan's name to the North Shore Choral Society, P.O. Box 103 Evanston, IL 60204, or to the charity of donor's choice.
Funeral arrangements by McMurrough Funeral Chapel (847) 362-2626.