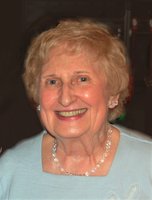 S. Roberta Hamman
Stephanie Roberta Hamman (nee Pyrce) of Libertyville, IL passed away March 16, 2018.
Roberta was born June 16, 1923 in Chicago, Illinois. She was the youngest of five children and lived in the southwest area of Chicago. Two family deaths occurred in her early years which made life especially difficult for her and her family. Her father was killed in an auto accident when she was only seven years old. Her oldest brother, Stanley, served in the Army in World War II, and was killed in battle in Italy. This left her mother to support and guide the remaining four children.
After graduating from Kelly High School in Chicago she attended Wilson Junior College and Northwestern University. She worked for Greyvan Lines in Chicago and was later employed at Westinghouse Electric Lamp Division with offices in the Merchandise Mart. She later worked for Sears and Allstate.
She married Wayne in Chicago in 1956 and moved with her husband and three children to Libertyville in 1963. She was actively involved with St. Joseph Catholic Church and was an officer in the Guild of the Blessed Virgin Mary. Roberta became quite interested in art, took art classes and painted many watercolor paintings. She was a member of the Art Institute of Chicago and regularly joined in showings and lectures there. In retirement she enjoyed doing considerable traveling with Wayne, especially to many European countries. She also enjoyed playing bridge and golf and was member of the Countryside Women's Golf League. She served as a Lake County election judge for many years.
Roberta was dedicated to her husband, children and other family members. Survivors include her husband, Wayne; son, Joseph (Julie) of Libertyville; daughter, Joyce (Richard) Allen of Lake Forest; grandchildren Laura (Michael) Ortiz; Rebecca (Thomas) Moore; Allison Hamman; Stephanie, Michael and Elizabeth Allen. Other survivors are the families of her brothers, including Leona, wife of Charles. She was preceded in death by her son, James; father, Joseph; mother, Sophie; sister, Bernice (Bruce Cerny); and brothers Stanley, Charles and Ted (Estelle).
Roberta was a resident of Libertyville prior to her move to Autumn Leaves Memory Care in 2015. She was a supporter of Marytown in Mundelein. Donations to support the mission at Marytown would be appreciated by going to kolbeshrine.org.
Funeral Mass will be 10:00 am Wednesday March 21st at Saint Joseph Catholic Church, 121 E Maple, Libertyville. Visitation will be 4:00 – 8:00 pm Tuesday March 20th at McMurrough Funeral Chapel, 101 Park Pl (Rt 176, 1 Blk East of Milwaukee Ave) Libertyville. Interment Ascension Cemetery, Libertyville. Donations to support the mission at Marytown would be appreciated by going to kolbeshrine.org. Funeral info (847) 362-2626. Please sign the guestbook at libertyvillefuneralhome.com