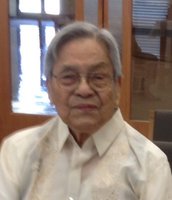 Jose C. "Neng" Bernardo
Jose "Neng" C. Bernardo, 96, formerly of Libertyville, peacefully passed away surrounded by his loving family on Saturday, April 14, 2018. He was born on May 5, 1922 in Angeles City, Philippines. He is survived by his wife of 74 years, Josefina Bernardo (Nuqui), 93.
He is survived by his 6 children: Agnes Brassfield (Bill - deceased), Bona Bernardo, Cristina Alferez (Tony), Carmelo Bernardo (Celine), Tomas Bernardo (Violy) and Sonia Bernardo. And 15 grandchildren and 19 great grand children.
Funeral Mass will be 10:00 am Tuesday April 17 at St. Joseph Catholic Church, 121 E Maple Ave, Libertyville. Visitation will be held 3:00 - 8:00 pm Monday April 16th at McMurrough Funeral Chapel, 101 Park Pl (Route 176, 1 Block East of Milwaukee Ave) Libertyville. Interment Ascension Cemetery, Libertyville. Funeral information (847) 362-2626.