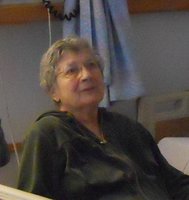 Annette Marie Warrender
Annette Marie Warrender, 94, of Highland Park, passed away October 28th peacefully at her home. Annette was born and raised in Connecticut where she met her husband Robert. They settled in Highland Park in 1973 where they raised their family and started their family business. She is remembered for her strong will and independence and was dedicated to her family and her faith. Annette was a parishioner of Immaculate Conception in Highland Park and devoted member of the Chicago Botanic Garden. Annette loved and embraced life.
Annette is survived by her loving children Robert Jr. & Laurie Warrender, Camilla Warrender, Alesandra Rain, Mary Warrender, and Joseph Warrender and her cherished grandchildren Robert III, Nicholas, Jeremy, Brendan, and Andrew. Annette is preceded in death by her beloved husband Robert Sr. after 37 years of marriage and her 8 siblings.
Funeral Mass of Christian Burial will be 10AM November 3rd at Immaculate Conception Parish, 770 Deerfield Rd, Highland Park, IL 60035 where will be a visitation 30 minutes prior to Mass. Interment to follow at Ascension Cemetery, Libertyville. In lieu of flowers, memorials made to the Chicago Coalition for the Homeless, 70 East Lake Street, Suite 720, Chicago, IL 60601 would be greatly appreciated. Funeral arrangements by McMurrough Funeral Chapel (847) 362-2626. Please sign the guestbook at libertyvillefuneralhome.com