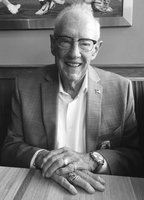 Joseph I. Nemmers Sr.
Joseph I. Nemmers Sr., age 90, passed away on August 27, 2019. He was born March 13, 1929, in Waterloo, IA, to Irvin and Christine Staebell Nemmers, and was the oldest of five children. Joe moved with his family to Libertyville, IL, where he attended St. Joseph Grade School. He was a 1947 graduate of Libertyville High School, where he was a school leader and a starting member of the varsity basketball team. He joined Abbott Laboratories in April 1946, one month after his 17th birthday, working after school and on weekends. During his 45-year Abbott career, he started in housekeeping, and eventually managed Abbott's printing, duplicating, and office supply departments. He retired in 1991 as Operations Manager, Corporate Special Services.
Joe enlisted in the Illinois Army National Guard in 1948. He was a member of the 33rd Infantry Division in Waukegan, and was mobilized on active duty for two years during the Korean War. He was honorably discharged in 1966 with the rank of Captain. Joe was a past president of the North Shore Club of Printing House Craftsmen, and was a graduate of the Lake Forest College Industrial Management Institute.
On February 3, 1951, Joe married Mary Jacqueline (Jackie) Mudd at St. Joseph Catholic Church. Jackie and Joe spent the next six decades living in Libertyville. Joe was a longtime head coach in the Libertyville Boys Club Softball League, and held many volunteer positions at St. Joe's. In 1975, he and Jackie were co-founders of "Street Scenes," Carmel Catholic High School's signature fundraising event. In retirement, Jackie and Joe traveled extensively, and spent many winters on St. Simons Island, GA.
He is survived by his three sons, Joseph Jr. (Katherine) of AZ, Gary (Nicole) of CA, and Scott (Donna) of WA; fourteen grandchildren and three great grandsons; by his sisters Kathleen Morrow of IL, and Christine (Greg) Schmieg of GA. He was preceded in death by his parents, his wife of 64 years, his brothers Eugene and William, and his daughter-in-law, Kathleen Nemmers.
Memorial Mass for Joe will be held 10AM Saturday September 14, 2019 at St. Joseph Catholic Church, 121 E Maple Ave, Libertyville followed by military honors. The family will receive friends in the church from 9:15 until the start of Mass. Interment will be private. Arrangements by McMurrough Funeral Chapel, (847) 362-2626. In lieu of flowers, the family has asked for donations to Carmel Catholic High School, One Carmel Parkway, Mundelein, Illinois, 60060, or their website at carmelhs.org.