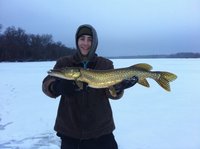 Curtis Jeffrey Hill
With deepest sorrow we announce that Curtis Jeffrey Hill, age 25 our beloved son, brother, nephew, cousin and friend to many, passed suddenly on Saturday September 28, 2019.
Curtis was born on November 16, 1993 in Evanston, Illinois. He graduated from Stevenson High School in Lincolnshire. He attended Kennesaw State University in Georgia. Curtis was known for his outgoing personality, big heart, sense of humor and his contagious smile. He loved fishing, dogs, and sports, especially his beloved Blackhawks and Bears.
Curtis is survived by his parents, Linda and Robert ; his brothers, Richard, Christopher, Timothy and Daniel ; his many aunts, uncles, and cousins. Our hearts are broken and we will miss him everyday.
Visitation will be from 10 am until the time of memorial service at 1:30 pm Saturday October 5th at McMurrough Funeral Chapel 101 Park Place Libertyville, Illinois 60048.