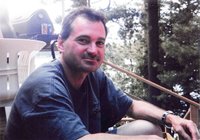 Matthew Henry Merry
Mathew "Matt" Henry Merry, age 54, died unexpectedly at his home in Union Grove Wisconsin on December 14, 2019.
Matt is survived by his parents Virgil "Ben" and Judith "Judy" Merry, of Lake Bluff, Illinois; his brother Mark Merry, of Indianapolis, Indiana; his nieces Julianna and Jennifer Merry; and his life partner and significant other, Hilleary Nelson, of Bristol, Wisconsin. He is preceded in death by his grandparents Henry and Bess Klisch, and Virgil and Alice Merry.
Matt was born on February 7, 1965, in Lake Forest, Illinois, to parents Ben and Judy Merry. He graduated from Lake Forest High School in 1983. Matt worked in carpentry and sales, but much of his adult life was involved with combating illness. Despite his health condition, he was a fun-loving partner with Hilleary, had extreme pride in his nieces, and had great love for all his family members.
Matt was social and fun-loving, always ready with a joke or funny story. Friendly and outgoing, he loved meeting people and making new friends. He was passionate about fishing, going "up-north", fixing things, and making furniture. He was generous, even if he didn't have much, what he had was yours if you needed it. His family and friends will always remember him with fond love as quick-witted and generous with an excellent sense of humor.
A funeral service is scheduled for Saturday on December 21, at McMurrough Funeral Chapel, 101 Park Place, Libertyville, IL 60048, (847) 362-2626, viewing from 11:00am-1:00pm CT with services at 1:00pm, with a reception to follow at Lake House, 525 Rockland Road, Lake Bluff, IL 60044, (847) 295-7140. All are welcome to attend and celebrate Matt's life.
In lieu of flowers, donations can be sent to Society of St Francis Animal Shelter, 12300 116th St., Kenosha, WI, (262) 242-3824 or Save-A-Pet Adoption Center, 31664 North Fairfield Road, Grayslake, Illinois 60030, 847-740-7788.