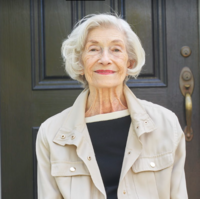 Donna Jean Waehner
LIBERTYVILLE – Donna Jean Kennie Waehner, age 86, passed away peacefully on October 31, 2021. Cherished wife of the late Ralph L Waehner (2007), she is survived by her children, Eric (Lorie), Julie, and Jill Uransel (Bill) and her sister Sandra Vansumeren. She was the Best Nonnie ever to Alek Uransel (Emily), Erin McDermott (Patrick), Katie Keller (Justin), Brett Uransel, Luke Uransel and Daniel Waehner.
Donna was born and raised in Bay City, Michigan. She graduated from St. James HS where she spent her time as a cheerleader for the Shamrocks. After graduating she began a career as a Stewardess at Capital Airlines and continued until she married Ralph in 1958. This began a 49-year adventure together that had them moving to new cities and expanding Donna's network of friends.
In 1981, Moore Business Forms moved Ralph & Donna to Libertyville and she soon made it clear that Libertyville would be her forever home. Her home became the center for all family gatherings, with many loving and memorable holidays, birthdays and impromptu events.
She was a faithful member of St. Joseph Parish, valued her CHIRP experience, enjoyed playing in numerous "bridge groups", participated in the Libertyville Garden Club, Ivanhoe Women's Golf League, and attended countless soccer, basketball, lacrosse, volleyball and baseball games to cheer on her grandkids.
She was a proud supporter of University of Michigan Athletics and for several years never missed a Northwestern football or basketball game in Evanston. Donna enjoyed many year-end trips to see both of her teams play in Bowl games.
Following Ralph's death, her time with her friends and her participation in PEO grew. She loved her PEO sisters and embraced PEO's mission of promoting educational opportunities for women.
Visitation will be held Thursday, December 2, 2021, from 5:00 PM – 7:30 PM at McMurrough Funeral Home, 101 Park Pl, Libertyville. Funeral Mass will be celebrated at 10:30 AM on Friday, December 3, 2021 at St. Joseph Parish, 121 E Maple Ave, Libertyville. COVID protocols (including masks) will be enforced. Interment at Ascension Cemetery Libertyville will be only family.
The family would like to thank Advocate Condell Medical Center & JourneyCare Hospice staffs for the care given to Donna. In lieu of flowers, the family appreciates donations to either P.E.O. Sisterhood Chapter NG to support local Women Scholarships (mail to 322 East Winchester Rd, Libertyville IL) or to The Frankel Cardiovascular Center at University of Michigan Medical Center. https://leadersandbest.umich.edu/find/#!/mimed/cvc
Please sign the register book at libertyvillefuneralhome.com