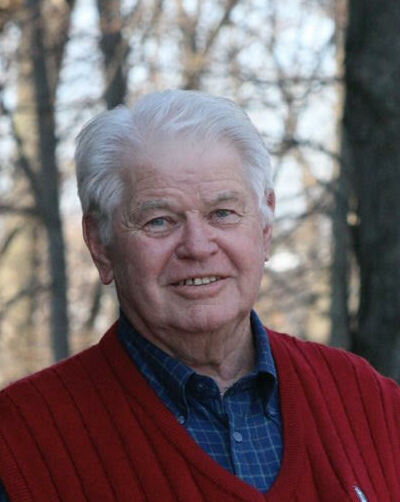 Eugene "Gene" Graham
Eugene "Gene" Graham, 90, US Navy, of Libertville, passed away peacefully on November 7, 2021, in his home, surrounded by family. Gene was born in Chicago and was a lifelong Cubs & Bear fan. Outside his professional career in the family business, Graham Oil Company, he was a devoted family man. Gene was a loyal friend to many, especially to those with whom he met weekly, for over 50 years, at the Crossroads "country club" of Ivanhoe. Gene was a man of faith, a wonderful teacher, mentor, and clear guide to his children and grandchildren. He loved a good joke, his sense of humor was legendary as were his "Eugeneisms", and he was a lover of all things with ice cream. We will miss him dearly.
Gene is survived by his beloved wife Maryan (nee Collins) of 39 years; his loving children John (Sheila), Gene, Matt (Kristin), Patrick (Marci), Katie (Patrick) Shannon, Lizzy, Nellie (Charlie) May, and Irene (Chris) O'Brien; his cherished grandchildren Collin, Kevin, Carolyn, Matthew, Marcus, Emmett, Kathleen, Hannah, Nate, Nolan, Abby, Oliver, Finn, Grace, Maggie, Kate, Allie, Cassidy, Finley, and Lonn; his dearest siblings Bill (Lois), Jack (MaryEllen), Alice (Warren) Allabastro, bother-in-law David Sutter, Diane (the late David) Laidley, and Mike (Kathy). Gene is preceded in death by both of his parents Eugene and Irene, his first wife, Kathleen (née Collins), and his sisters Marjorie and Mary (David) Sutter.
Visitation for Gene will be held from 4:00-8:00 pm on Friday, November 12, at McMurrough Funeral Chapel, 101 Park Pl, Libertyville. Funeral Mass will begin at 10:00 am on Saturday, November 13 at St. Joseph Catholic Church, 121 E Maple Ave, Libertyville. In lieu of flowers, please make a donation to your charity of choice. Interment to follow at Ascension Catholic Cemetery, Libertyville. Funeral info (847) 362-2626.