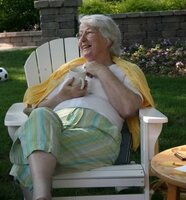 Therese King
Therese King (nee Liston) died peacefully at home in Lindenhurst, IL, surrounded by her loving family, on November 15, 2021. Raised in County Cork, Ireland, Therese was the youngest of eleven children born to the late Michael and Kathleen.
Devoted wife to the late John; loving mother to children Gerry (Brian) Micheli, Jim (Wendy), John, Maura, the late Patrick, Noreen (Robert) Suing, and Therese (Lou) Nohos; cherished grandmother of Tess, Kelsey, Daniel, Kori, Ryan, John (Jordyn), Steven, Daniel, Sean, Shane, Colin, Molly, Riley, Kate, Abby and John; great grandmother to John; caring sister to Ellen and the late: Mary Begley, Sean, Nora Quinn, Michael, Bridget Morissey, Kathleen McQuinn, David, Patrick and James; aunt to many nieces and nephews; and lifelong friend to Jerry and Betty and many others.
A true matriarch, Therese's ability to lead with warmth and dignity, teach through loving example, and nurture the strong bonds of family and friendship, are the lasting gifts she leaves to those who were fortunate enough to be loved by her.
A special thanks to Estela, Therese's live-in caregiver, who's care and prayers were uplifting.
Visitation will be Saturday November 20 from 8:30 a.m. to 9:45 a.m. at McMurrough Funeral Chapel, 101 Park Place Libertyville. Followed by 10:00 a.m. mass at St. Joseph Catholic Church, 121 E. Maple Ave. Libertyville. Interment will follow at Ascension Cemetery.
In lieu of flowers and in support of Therese's adage "education is never a burden", memorials can be made to SJCS – The Knight Fund, 221 Park Place, Libertyville, IL 60048 (https://www.givecentral.org/location/181/event/30840).