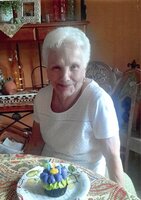 Lucille Stewart
Lucille Stewart, 97, of Libertyville, passed away May 10, 2022. Lucille was born in Eldorado, Illinois to Rhode and Bessie Tierney. During World War II she moved to Chicago to find work to support her family. It was in having a family that Lucille found her true purpose in life. She is remembered for famous cookies and the 100's and 100's of batches she made for everyone. Her dedication in the kitchen required its own freezer to house her cookies. Making others happy was one her greatest joys in life. She loved her family with her whole heart and will be dearly missed.
Lucille is survived by her loving daughter Karen (Thomas) Alsbury; her dearest grandchildren Kristine (Drew) Massey, Holly (Zach) Schaefer, Lauren (Matt) Esposto, Lindsey Strzepek and Ryan (Talin Tokat) Strzepek; and her cherished great-granchildren Michael Dalton, Hailey, Jessica and Brandy Massey & William Stewart Esposto. She was preceded in death by her husband Gordon Robert Stewart and her daughter Susan (Steve) Strzepek.
Visitation for Lucille will be from 2:00 – 6:00 pm on Sunday May 15th at McMurrough Funeral Chapel, 101 Park Pl, Libertyville. Funeral Mass will be 10:30 am on Monday May 16th at St. Joseph Catholic Church, 121 E Maple Ave, Libertyville. Interment to follow at Irving Park Cemetery, Chicago. Due to distance from St. Joseph Church to Irving Park Cemetery, following Mass, we will meet at the front entrance of the Cemetery.
In lieu of flowers memorials made to the St. Jude Children's Research Hospital www.stjude.org Funeral info (847) 362-2626.