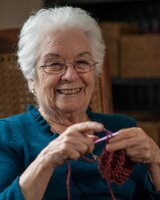 Maria Ryndak
Maria Ryndak, 95, of Libertyville, passed away peacefully at her home with her family by her side. Maria was born in Spain to Ricardo and Josefa and got married to the love of her life Zdzislaw in 1950 and emigrated to the US in 1952. She raised her family and made a wonderful life in Chicago. She was a prized artist whose talents rubbed off on her children. Maria was highly gifted in everything she put her mind to. She is remembered for her wonderful sense of humor that built lasting friendships. Maria was our family matriarch and a loving, supporting mother and grandmother. She will be dearly missed.
Maria is survived by her loving children Richard (Denise Davidson), Hana (Terry) Marzec, Vondy (Leo) Dunn, and Robert (Laura); her cherished grandchildren Kaveh, David, Leila, Ryan (Madeline), Dina (David), Alisha (Paddy), Ty, Derek, Kaitlin, Kelsey, Michael (Georgia); and her dearest great-grandchildren Christian, Carson, Holland, Roman and Sofia. She is preceded in death by her husband Zdzislaw and her grandson Zachary.
Funeral Mass for Maria will be 10:30 am on Thursday, May 19th at St. Joseph Catholic Church, 121 E Maple Ave, Libertyville. Funeral arrangements by McMurrough Funeral Chapel (847) 362-2626.