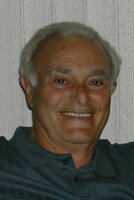 Ludovico "Rudy" Angiulo
Ludovico "Rudy" Angiulo, 91, of Lincolnshire, formerly of Vernon Hills, passed away peacefully May 26, 2022 with his family at his side in Libertyville. Rudy is remembered as a loving husband, father, grandfather and great – grandfather who was loved and admired by everyone he met. He loved God with all his heart and left an indelible impression on the many lives that he touched. Rudy will be missed for his wonderful sense of humor and gentle spirit. He shared his wisdom of life with the many people that were blessed enough to be in his life. He is now reunited with the love of his life, Joan, living in the eternal light of our savior, Jesus Christ.
Rudy is survived by his children Donna M. (Jeff) Rusk, Perry R. (Jen), Frank J. (Jo) Sr.; his grandchildren Jim (Beth), Eric (Stephanie), Anthony (Melissa), Robert, Tyler, Eric, Teresa, Adam (Alex), Frankie Jr., Nicolas, Mikalya and great-grandchildren Blake, Kenna, Chase, Gabe, Nora and Luciana. He is preceded in death by his loving wife of 65 years, Joan and his parents Pietro and Maria Angiulo.
Visitation for Rudy will be from 4-8pm Wednesday June 1st at McMurrough Funeral Chapel, 101 Park Pl, Libertyville. Funeral Mass will be 10:30 am Thursday June 2nd at St. Joseph Catholic Church, 121 E Maple Ave, Libertyville. Entombment will follow at All Saints Cemetery, Des Plaines. Funeral info (847) 362-2626. Please sign the guestbook at libertyvillefuneralhome.com