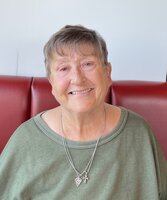 Sharon Irene Hnatiuk
Sharon Irene (Dunn) Hnatiuk, 74, of Gurnee, IL, passed away during the morning hours of June 2nd, 2022, with family by her side.
She was born to the late Chalmer and Irene Dunn, on October 4th, 1947, in Indianapolis, IN. Sharon graduated from Hobart High School in 1965 and received a bachelor's degree in education from Indiana University in 1969. She was married to Casey Hnatiuk in 1974.
She is survived by her 6 children: Casey Hnatiuk, Stacey Galloway (Benjamin), Stephen Hnatiuk (Natalie), Christopher Hnatiuk (Jessica), James Hnatiuk, and Andrew Hnatiuk (Celeste) and 12 grandchildren (Jordan, Sydney, Jaxson, Kaitlyn, Elizabeth, Madelyn, Emily, Savannah, Caleb, Ashton, Beckett and Hudson); and 5 brothers and sisters, Karen Reynolds (Peter), Darrell Dunn (Jeanne), Bryan Dunn (Julie), Warren Dunn (Jill), and Cyndi Dunn. Sharon was predeceased by her loving husband Casey, in 2015.
Sharon was very passionate about family and her life's dream was to raise a large family of her own. When not being called Mom or Grandma, she was a loving sister, a cookie master, a plant lover, an avid reader and a great friend to many throughout her life.
Sharon's celebration of life will take place July 2nd, 2022, 10:00am at St. Joseph's Church, 221 Park Place, Libertyville, IL followed by a luncheon at Mickey Finn's, 345 N. Milwaukee Ave, Libertyville, IL from 11-2pm.
In lieu of flowers, please make a donation in memory of Sharon to fund research of small cell lung cancer to the American Cancer Society.