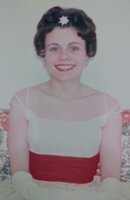 Evelyn McWilliams
Evelyn McWilliams, 80, of Libertyville, IL, died on Sunday, June 19th at her home in the care of her family. Beloved wife of John for 60 years; loving mother of John McWilliams (Tom Gorz), the late Kirsten McWilliams (Mike Brown) and Justine (Dan) Sennott; devoted grandmother of Will, Andy, Daniel, and Teddy. She was preceded in death by her dearest cousin Delores (Stanley) Talareck, her parents Edward and Seraphine Berger, and sister Sandy Berger, who died at age four.
Evelyn will be remembered as a kind-hearted, hard-working, straight-talking woman who enjoyed being outside on a beautiful day and loved celebrating the Fourth of July in Libertyville. She earned both her Bachelor's Degree from Lake Forest College and Master's Degree from Webster University while a married mother of three, working full-time. She looked forward to visiting new cities as much as a good stay-cation of going to movies, the Chicago Botanic Garden, Art Institute of Chicago, and her own backyard patio. She devoted her life to her family and taught her children that they were children of God who were bestowed with blessings and beloved by her. She taught her grandchildren the same, often over an extra serving of Culver's ice cream. Evelyn understood that gratitude was the key to happiness. She will be dearly missed and very lovingly remembered.
Visitation will be from 3:00 - 6:00 PM Sunday June 26th at McMurrough Funeral Chapel, 101 Park Pl, Libertyville. Funeral Mass will be 10:30 AM Monday June 27th at St. Joseph Parish, 121 East Maple Libertyville with interment following at Lakeside Cemetery, Libertyville.