Recommend Daniel's obituary to your friends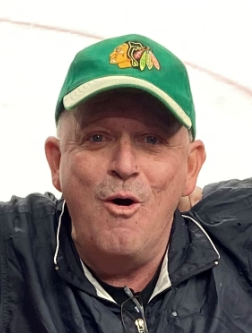 Obituary of Daniel Patrick O'Connell
My dad oozed flaws from every orifice of his body: booze, cigarettes, anxiety, depression, cancer, stubbornness, his Cubs' fandom … at one point or another in his life, these flaws got the best of him. But despite those headwinds, he managed to put in 58 of the most entertaining years of anyone I've ever known, and everyone who got the chance to know him well will miss him dearly.
Born on May 5, 1961, in Waukegan, my dad honed his gregarious nature and sharp wit at Waukegan High School. Sporting a head full of sandy brown curls and what can best be described as a Mike Ditka-esque mustache, it was there that he met the love of his life, my mom, Annette Bruno. After a tragic accident compelled them to stay together long after their high school days ended (me), he started out on his life's journey. Never boring, my dad worked many-a-live-long-day on the railroad, shifted a few years later to Abbott Laboratories and later signed up at Modagrafics, among other professions. Along the way, one constant remained: He made lifelong friends at every stop, evident by the number and breadth of well-wishers who were good enough to share their fondest memories of my dad with me in his hospital room.
Dad found his calling late in life as a taxi driver, where he could share his love of the Blackhawks and his concern over the Bears' quarterback play with his unsuspecting passengers. It was there that he met his closest confidant, Dave, a sweet, caring man whose lasting friendship with my dad has earned him an honorary lifetime membership into our family.
My dad's hobbies included golfing (he loved to regale anyone who would listen with the story of when he shot a par round at Bonnie Brook Golf Course back in the day), expertly grilling/cooking rare-to-medium-rare meat ("I like my steaks to moo at me right before I take my first bite"), complaining about the Cubs' bullpen, humorous anecdotes, wearing shorts every. single. month. of the year (no matter how much snow was on the ground), fishing and talking about his Chicago Blackhawks cuckoo clock: I mean, seriously, he wouldn't shut up about that thing. Like, it's a clock; get over yourself. (Update: He never did.) A second tragic accident (my brother, Michael) forced him into something he should have been doing a long time before he started: coaching Little League baseball. Baseball + impressionable children + fun? Subscribe. "Your dad was such a dummy not to get into this when you were a kid," he'd tell me. He was a natural, and I know my brother enjoyed his baseball tutelage just as much as he did the snack cakes and Capri Sun pouches after games.
So how will I remember my dad? What sticks out? What's his legacy? He was the typical Boomer dad in many ways: Provide for your family, keep your emotions in check, never share your feelings, etc. He passed on his stubbornness to me (and if you disagree with that sentiment, I will fight you). But, near the end of his life, his try meter went up considerably. He didn't always do the right thing (none of us do). He started going to Alcoholics Anonymous. He twice made it past 1 year sober. So, again, not perfect, but TRYING. He took his granddaughter fishing. He spent time chasing his grandson around as he giggled. After his cancer diagnosis in May, he accompanied my brother and I for a memorable trip to Las Vegas. The 'Hawks beat the Golden Knights for the first time. He used part of his retirement account to set up trusts for my kids' college funds. He spent more time with beloved family members, like his niece, Cindy, who frequently brought him meals. My brother quit smoking. To put it simply: He made the best of a bad situation.
After he died, I went through a bunch of medical records stacking up on his dining room table. It was obvious that he had stopped sharing updates from the doctors because he didn't want to be forced to keep breaking the bad news to loved ones. His dad died when I was about 21 months old. My dad died a few days after my son turned 18 months old. I promised my dad in his final days that I would break this cycle, that I'll be around to see my grandson grow up, whenever that day might come. It's ironic and unfair that, in the end, lung cancer took the breath away from a man who breathed life into so many ordinary everyday situations.
Please join us in a celebration of Dan's life from 4-8 p.m. Thursday at McMurrough Funeral Chapel, 101 Park Place, Libertyville, IL. Light snacks will be served, and more detailed descriptions of the Chicago Blackhawks cuckoo clock will be available. In lieu of flowers, a college education fund for Cailin Arlene O'Connell has been established in memory of Daniel Patrick O'Connell. Envelopes for the education fund will be available at the funeral chapel. Please make donations payable to Cailin Arlene O'Connell and forward them to 101 Park Place, Libertyville, IL 60048.
Celebration of Life
4:00 pm - 8:00 pm
Thursday, December 12, 2019
McMurrough Funeral Chapel
101 Park Place
Libertyville, Illinois, United States
8473622626