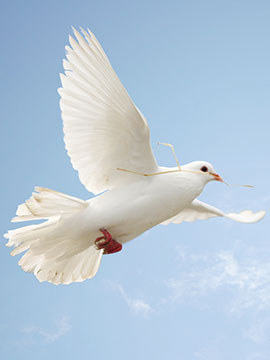 Obituary of James Thomas Custod
Dr. James T. Custod age 95, passed away September 17, 2018. James was preceded in death by his loving wife of 56 years Kathrine Sabina (Tedford) Custod, his father James S. Custodio, mother Margaret (Burke) Custodio, and siblings Margaret and Ed. He is survived by his son James Ted Custod (Holly Roos-Custod), granddaughters Emma and Erin, Brother Sidney (Audrey) and his life-partner Carole Amedeo.
James devoted his life to service starting with joining the Navy during WWII as an aviation communication crewman. Later he was a research scientist with the VA and published several papers and had worked at the Children's Medical Center and Cook County Hospitals in Chicago. He received several undergraduate and graduate degrees at University of Missouri, where he met and married Kathrine. He continued his life long passion for learning by completing his Doctorate at Loyola University in Chicago. His passions were the Catholic Church, being with family and friends, traveling, Boy Scout leadership, as well as reading and writing short stories. As a devoted family man and friend he will be sorely missed.
Visitation will be Thursday September 20, 2018 from 5:00 - 8:00PM at McMurrough Funeral Chapel, 101 Park Place, Libertyville, IL 60048. Mass will take place Saturday September 22, 2018 at 2:30PM at St Joseph Catholic Church, 121 E. Maple Ave., Libertyville, IL 60048. Memorials made to Catholic Radio, an organization that was very dear to James would be greatly appreciated. Please make checks payable to "BVM Helping Hands", WSFI Catholic Radio, P.O. Box 885, Libertyville, IL 60048. Funeral information (847)362-2626. Please sign guestbook at libertyvillefuneralhome.com.