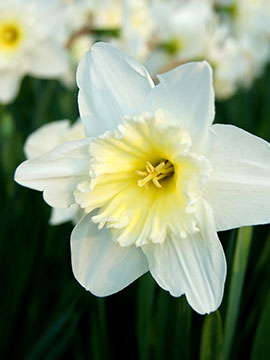 Share Your Memory of
Katherine Virginia
Obituary of Katherine Virginia Crist
Katherine Virginia Crist, a resident of Lake Forest, IL passed away on Wednesday, October 25, 2017, her birthday, with her daughter by her side. To her friends, Virginia was known as Ginny. She was born to Katherine Virginia Craggs Hynes and Irwin Adelbert Hynes, on October 25, 1926 in Baltimore, Maryland. Virginia was raised in Catonsville, MD with fond memories of her parents' show dogs and her horse. She joined the Catonsville Presbyterian Church in 1941 and maintained her membership for her lifetime. Virginia graduated from Catonsville High School, Bard Avon School and University of Baltimore Junior College. She was Secretary to the President of the University of Baltimore where she met her husband of 63 years, William Airy Crist Jr., who pre-deceased her on June 27, 2010. Shortly after their marriage they moved to Boston and three years later, moved to New York, living in White Plains, then Riverside, CT before settling in Lake Forest, IL in 1973.
Virginia held various executive secretarial positions at Mobil Oil Company in Baltimore, then Boston and New York. In Greenwich, she was a private and confidential secretary to the matriarch of a founding family of a large corporation. In 2012, Virginia retired from Lake Forest College after 39 years where she started as the Secretary in the Science Department then was the Secretary for the Physics Department as well as the Administrative Director of the Center of Photonics Studies, a job she truly enjoyed.
Virginia was a founding member and elected first president of the Desk and Derrick Club of Baltimore. In addition she was the first woman appointed to the Oil Industry Information Committee and served as chairman of the Women's Affairs for the State of Maryland. In Greenwich, CT Virginia served as the Education Chairman of the League of Women Voters and was a board member of the Greenwich Association for Public Schools, and appointed to a Study Committee of the Board of Education with expertise in long-range planning. At Lake Forest College she founded and was editor of News and Views, a bi-weekly employees' newsletter.
Virginia loved to travel and accompanied her husband and family on numerous business and pleasure trips throughout Europe and Israel. She had a lifelong passion for genealogy and traveled back to her family roots in Yorkshire, England several times. Every chance she could, she traveled back to her home in Ellicott City, MD. Virginia was an avid and competitive tennis and paddle tennis player. She was always on the A teams at Innis Arden Golf Club in Old Greenwich, CT then Lake Forest Club. For decades, Virginia was a faithful volunteer for the First Presbyterian Church of Lake Forest annual rummage sale. Most of all, Virginia loved spending time with her grandchildren. She enjoyed each and every dance recital, concert, swim meet, tennis match and basketball and baseball game. Virginia is survived by her loving daughter, Katherine Susanne (James) Fluri. She was a devoted grandmother to Katherine Susanne and Andrew James Fluri. She is also survived by a son, William A. Crist, III. A graveside service was held at Loudon Park Cemetery in Baltimore, MD on November 2, 2017 with family and dear friends. The family would like to thank Virginia's cousins, neighbors and our friends who helped us through the past several years. Thank you to the staff at The Springs of Vernon Hills and Transitions Hospice. A special thanks to Allan, her loyal caregiver. Memorials may be made to the Orphans of the Storm, 2200 Riverwoods Rd, Deerfield Road, IL 60015 or the charity of your choice. Arrangements were handled by McMurrough Funeral Chapel of Libertyville, IL and Loudon Park Funeral Home of Baltimore.